Get Involved and Get Connected!
UC Santa Cruz undergraduates of color, women, LGBT+, students from economically disadvantaged communities, and those with disabilities are urged to learn more about opportunities to connect over Philosophy. 
Philosophy in an Inclusive Key Summer Institutes (PIKSI) are held at universities across the country; Penn State, MIT, Rutgers, Brown, UC San Diego. These engaging 1 or 2 week summer programs are designed to encourage undergraduates to consider future study of philosophy by introducing various areas of specialization, exploring what it means to be a professional philosopher and offering helpful preparation for applying to and succeeding at graduate school in philosophy and beyond.  
Read more about the application process here: http://www.piksi.org/application/
The American Philosophical Association also offers advice for Underrepresented Groups considering graduate study in Philosophy. 
***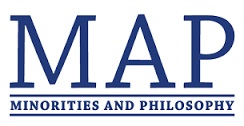 Minorities and Philosophy (MAP) began in 2013 as a handful of graduate students who wanted to discuss issues related to diversity in philosophy. Three years later, MAP is an international organization with 60 chapters in 5 regions - US, UK, Canada, Australia, New Zealand - that have organized over 200 events and projects worldwide. Broadly these events address issues around underrepresented groups in the discipline, theoretical issues in philosophy of gender, race, etc., and philosophy done from minority perspectives.
Through MAP's network, students can exchange ideas on topics related to minorities and philosophy, meet and support peers, learn from other philosophy departments, examine and address issues of minority participation in academic philosophy.
Though the format of MAP varies from school to school, each chapter aims broadly at addressing;

minority issues in the profession, 
theoretical issues regarding philosophy of gender, race, sexual orientation, class, disability, native language, etc, and
philosophy done from minority perspectives.

Meeting formats include: external or internal speakers, reading groups, film screenings, mentorship events for undergraduates or graduates, panel discussions, practical workshops (e.g. on communication techniques, navigating stereotype threat or implicit bias). Once a year, representatives from each participating school meet to discuss their chapter's progress.
Emily Robertson (emkrober@ucsc.edu) and Jordan Dopkins (jdopkins@ucsc.edu) will be serving as the student organizers for our MAP chapter with the mentorship of Professor Janette Dinishak (jdinisha@ucsc.edu). 
Contact one of them for more information on how to get involved.